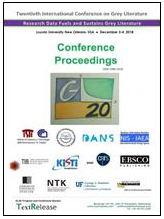 GL20 Conference Proceedings are now available online (OA)

GL20 Conference Proceedings [Order form Printed Edition]
Twentieth International Conference on Grey Literature "Research Data Fuels and Sustains Grey Literature". -  Loyola University New Orleans, USA December 3-4, 2018 / compiled by D. Farace and J. Frantzen ; GreyNet International, Grey Literature Network Service. – Amsterdam : TextRelease, February 2019. – Author Index. – (GL Conference Series, ISSN 1386-2316 ; No. 20).
ISTI-CNR (IT), TIB Hannover (DE), DANS-KNAW (NL), FEDLINK; Library of Congress (USA), CVTISR (SK), EBSCO (USA), Inist-CNRS (FR), KISTI (KR), NIS-IAEA (AT), NTK (CZ), and the University of Florida; George A. Smathers Libraries (USA) are Corporate Authors and Associate Members of GreyNet International. These proceedings contain full text conference papers presented during the two days of plenary and poster sessions. The papers appear in the same order as in the conference program book. Included is an author index with the names of contributing authors and researchers along with their biographical notes. A list of 60 participating organizations as well as sponsored advertisements are likewise included. ISBN 978-90-77484-33-3 ©TextRelease, 2019.
http://www.textrelease.com/publications/proceedings.html

Note   The print run is based on advanced publication orders!
GreyNet International
Grey Literature Network Service
Javastraat 194-HS
1095 CP Amsterdam
Netherlands
Phone +31-(0) 20 331 2420
Email: This email address is being protected from spambots. You need JavaScript enabled to view it.
Url: http://www.greynet.org
GreyNet's Web Access Portal and Repository http://greyguide.isti.cnr.it/

Dedicated to Research, Publication, Open Access, Education, and Public Awareness to Grey Literature