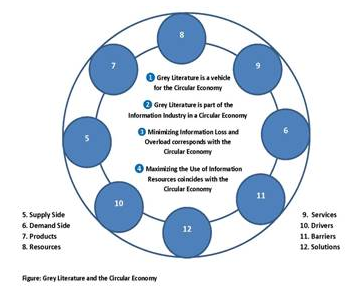 Grey Literature and the Circular Economy

An upcoming seminar in the GreyForum Series will look at grey literature not only as an important vehicle for the circular economy but will also demonstrate its part in the information industry alongside other industries embedded in a circular economy. Grey Literature as a vehicle is foremost responsible for the knowledge transfer required to raise awareness to the circular economy. And, it is this that is required to bring about needed change in the mindset required for its implementation. Industries like that of information appear to have remained until now on the periphery.

Grey literature encompasses a range of diverse types of multidisciplinary and sustained  information resources that allow for innovative solutions to barriers incorporated in a linear, ownership based information industry. Grey Literature is open access compliant, exploits the reuse and enhancement of existing resources, and seeks to preserve the knowledge contained therein for both science and society.

This first of its kind forum on the circular economy and grey literature is organized by GreyNet International together with the Amsterdam based platform gocirularnow.com. For further details visit www.greynet.org/greyforumseries/circulareconomy.html.
GreyNet International
Grey Literature Network Service
Javastraat 194-HS
1095 CP Amsterdam
Netherlands
Phone +31-(0) 20 331 2420
Email: This email address is being protected from spambots. You need JavaScript enabled to view it.
Url: http://www.greynet.org
GreyNet's Web Access Portal and Repository http://greyguide.isti.cnr.it/