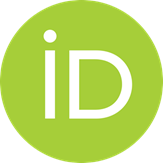 Dear Colleague,
An ORCiD is a unique, open digital identifier that distinguishes you from every other author/researcher with the same or a similar name. GreyNet's community of practice in grey literature and networked information maintains a collection of Biographical notes on authors and researchers published in this field.
 To date, 56% of those in the BIO collection housed in the GreyGuide Repository have an assigned ORCiD. If you do not yet have an ORCiD, take a moment to register yours free of charge https://orcid.org/register. Likewise, if your biographical note is not yet in the GreyGuide Repository, please submit one.
Just 3-EASY STEPS:
Select BIO: Who is in Grey Literature
Complete the online template and remember to press the submit button!


GreyNet International
Grey Literature Network Service
Javastraat 194-HS
1095 CP Amsterdam
Netherlands
 Phone +31-(0) 20 331 2420
Email: This email address is being protected from spambots. You need JavaScript enabled to view it.
Url: http://www.greynet.org
GreyNet's Web Access Portal and Repository http://greyguide.isti.cnr.it/

Dedicated to Research, Publication, Open Access, Education, and Public Awareness to Grey Literature